Esquinas Lodge is the largest employer in the village of La Gamba. Since we opened in 1994, two generations of men and women from La Gamba have worked at the lodge as cooks, gardeners, maids, chauffeurs and guides. We envision ourselves as a team, and we take pride in maintaining a warm personal relationship with our staff. Since 2003, many students from Austrian tourism colleges have had the opportunity to work as volunteers at Esquinas, and occasionally we have invited professional chefs to help develop our menu.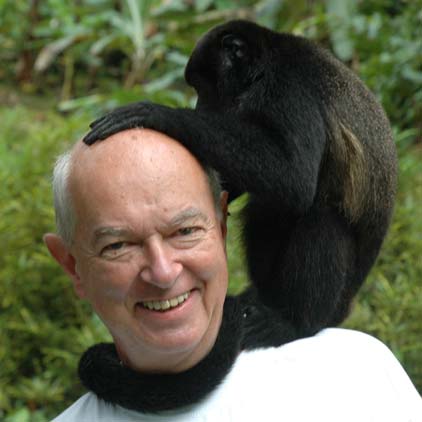 Michael Schnitzler, born in California from Austrian parents, had a successful career as classical violinist for 50 years. Among others, he was concertmaster of the Vienna Symphony, professor for violin at Vienna Music University and violinist of the Haydn Trio of Vienna. He has played around 2000 concerts throughout the world and made numerous recordings.
Michael Schnitzler's big love is nature. In his youth, he climbed mountains in the Sierra Nevada, the Rocky Mountains and the Alps. He trekked in Peru, Canada, Nepal, and Africa, went diving in the Red Sea, the Maldives, Polynesia and the Great Barrier Reef, and rafted through the Grand Canyon. His travels brought him to the Galapagos Islands, the Arctic and Antarctic and various tropical countries, where he fell in love with the ecosystem "rainforest". In 1989, he purchased a little house on Playa Cacao near Golfito and soon founded the NGO Rainforest of the Austrians with the purpose of collecting funds to save the Esquinas forest. He was supervisor of Esquinas Lodge from the beginning and purchased the lodge in 2005.
Julia Wurth and Fernando Barrantes
Managers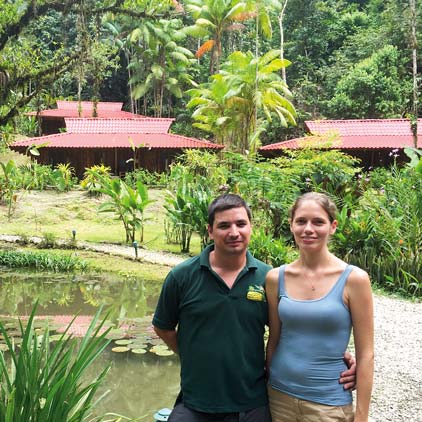 Julia Wurth from Austria came to Costa Rica as a biology student from the University of Vienna. She pursued her studies at La Gamba Tropical Research Station and later became practicant at Esquinas Lodge, where she met Fernando Barrantes. After obtaining her diploma as a naturalist guide, she worked as a free-lance guide in Costa Rica for two years before returning to Esquinas as general manager in 2014.
Fernando Barrantes is from the Sarapiqui region in northern Costa Rica and studied to become a naturalist guide. His specialty is birdwatching. After moving to the southern zone, he was guide at Playa Nicuesa Lodge, Esquinas Lodge and Lapa Rios Lodge for several years before being appointed general manager of Esquinas Lodge together with his wife Julia.
Julia is in charge of the office, reservations and guest relations. Fernando oversees the staff, garden, maintenance and financial matters.