Esquinas Rainforest Lodge offers a variety of exciting tours and excursions: day, night and birding hikes on our own nature trails, a bike tour through the valley of La Gamba to Chorro Waterfall, a boat tour to the Rio Coto Mangroves, a Dolphin and Whalewatching Tour in the Golfo Dulce, and a visit to La Gamba Tropical Research Station. For a detailed description, scroll down the page or click on each tour on the left column.
Birding and wildlife day hike
Don't miss a hike with one of our local guides! The Esquinas forest is categorized as a "lowland tropical wet forest" and contains the highest density of trees (over 140 species per hectare) in Costa Rica and a total of 2.500 species of plants! There is a good chance to see many colorful birds, shiny butterflies, bizarre insects, frogs, or possibly monkeys, agouti-pacas, coatis, caimans, basilisks or even a wildcat. Our birding and widlife hike departs after breakfast.
Duration: 2 - 3 hours
Price: 1 person $30, 2-4 persons $25 p.p., 5+ persons $20 p.p.
Early morning birdwatching
This tour with one of our local guides utilizes our own Bird Trail and the lodge garden. Birds to be seen in the forest include Trogons, Motmots, Woodpeckers, Manakins and the famous "Black-cheeked Ant Tanager", endemic to the Golfo Dulce area. The bird fauna of the more open areas includes Parrots, Curassows, Parakeets, Egrets, Flycatchers, Hummingbirds and Toucans. Our birding hike departs around 6 a.m.and returns in time for breakfast and other tours.
Duration: 1.5-2 hours
Price: 1 person $30, 2 persons $25 p.p., 3 persons $20 p.p., from 4 persons $15 p.p.
A favorite among our guests! This hike starts after dinner and provides an opportunity to experience the forest by night. Our guide takes us through the riverbed of Quebrada Negra and through the garden of the lodge. Nocturnal wildlife to be seen includes snakes, frogs and toads (our record stands at 17 species on one single tour!), bats, owls, spiders and maybe bigger mammals.
Duration: 2 - 3 hours
Price: 1 person $30, 2-4 persons $25 p.p., 5+ persons $20 p.p.
The mangroves of the Rio Coto estuary contain an incredible array of wildlife: numerous species of waterbirds, parrots, howler, white-faced and squirrel monkeys, caimans and crocodiles. Our boat tour through the meandering mangrove swamp, where it is unlikely to encounter any other tourists, is preceded by a drive through the rainforest to Golfito and includes a stop at a beach for a picnic lunch and a swim in the warm waters of Golfo Dulce.

Duration: 6 hours, min. 2 persons
Price: $105 p.p. (2 persons), $80 p.p. (3-4 persons), $65 p.p. (5+ persons)
Dolphin and Wildlife Tour in Golfo Dulce
After a drive through the rainforest to Golfito, we board a motorboat for a scenic trip around Golfo Dulce, a fjord which separates Piedras Blancas National Park and the Osa peninsula. Three species of porpoise live and breed year-round in the gulf. Although it might take some time to find them, there is a 90% chance of observing bottlenose dolphins playing and swimming by the boat, and during certain months humpback whales and whale sharks can be seen. On the sparsely inhabited coastline, we can observe pelicans and many other species of birds. as well as monkeys, coatis and other mammals.
Duration: 5 hours, min. 2 persons
Price: $95 p.p. (2 persons), $70 p.p. (3-4 persons), $55 p.p. (5+ persons)
La Gamba Tropical Research Station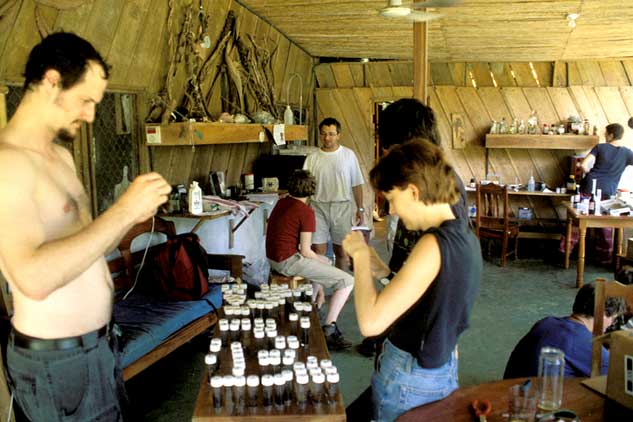 Don't miss the opportunity to see researchers at work! The internationally acclaimed station, an 8-minute walk from Esquinas Lodge, is run by the University of Vienna and is dedicated to investigation and research in the surrounding forest. More than 100 bachelors and masters studies have been undertaken at the facility. The station's "Field Guide to the Golfo Dulce Rainforests" is a standard book among botanists worldwide. Researchers and students and an Austrian civil servant are on hand most of the time. Visits and tours are possible Monday through Saturday from 8 to 5. Prior reservation required, please contact our receptionist.
Donation for entrance: $ 8.00 p.p.
Guided tour: $ 18.00 p.p.